Join Us
Membership FAQs
---
Membership Types
Membership to MnChallengers is granted based on a donation basis. There are two types of membership for the club. Both grant the same general benefits, the difference comes down to how many people are included in the membership
$30 STOCK: Singular driver who does not plan to have passengers (Significant others etc..) riding with them regularly on runs or attending events.
$50 STOCK +1: Singular driver + a non-car driving member i.e. spouse, significant other
Example: You and your spouse each have a car and each would like to join the club. You would register separately as two STOCK memberships.
Example 2: You are a drive and your significant other is a passenger in a singular car. This would be considered STOCK +1.
What does my membership go towards?
MnChallengers is a non-profit organization. Board members receive no compensation for their volunteer assistance in keeping the club functioning. All membership dues taken in go towards one of the following:
Expenses for club events – 3 times a year the club provides a lunch to the club. These are at the board elections in spring, Mopars in the Park in the summer and the annual club picnic in the fall. Food, event space and other things needed to make these events happen are included.
Donations and contributions – Donations made that are contributed to charity events or charitable organizations via MnChallengers.
Club overhead costs – Including insurance, taxes, website and other
---
Join Us or Renew Your Membership
Please fill out the Google form below. After you have finished the form you will find a link to pay. All payments are encrypted and securely handled by Paypal.
---
Signing Up: Step By Step
Step 1: Membership Form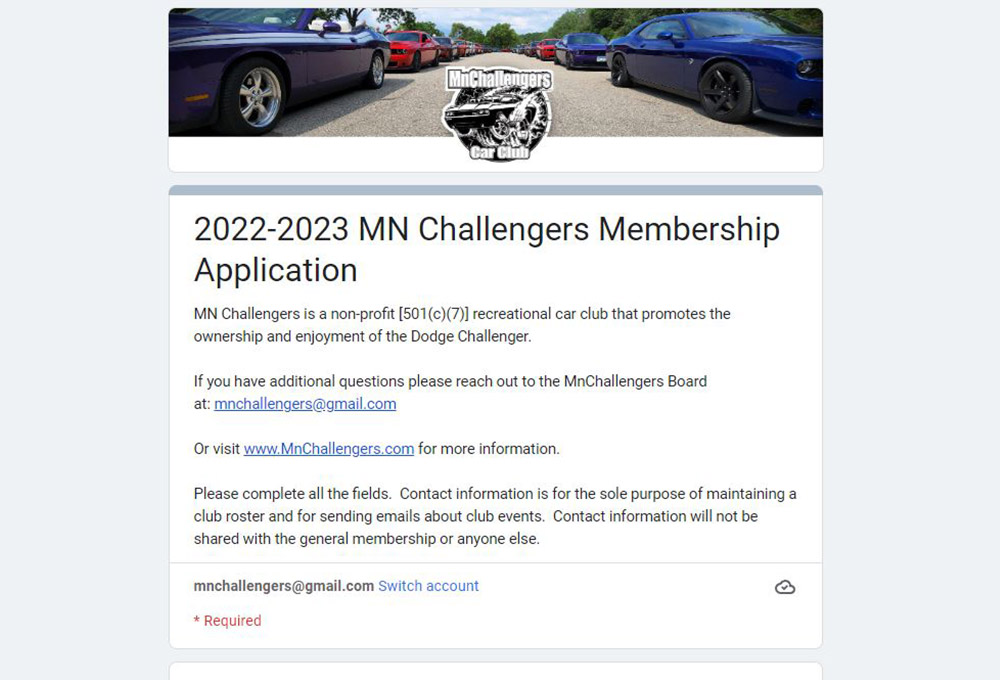 Please fill out the Google Form, this form will include the information for yourself, a +1 if applicable and the waiver / general liability form for the club.
Step 2: Payment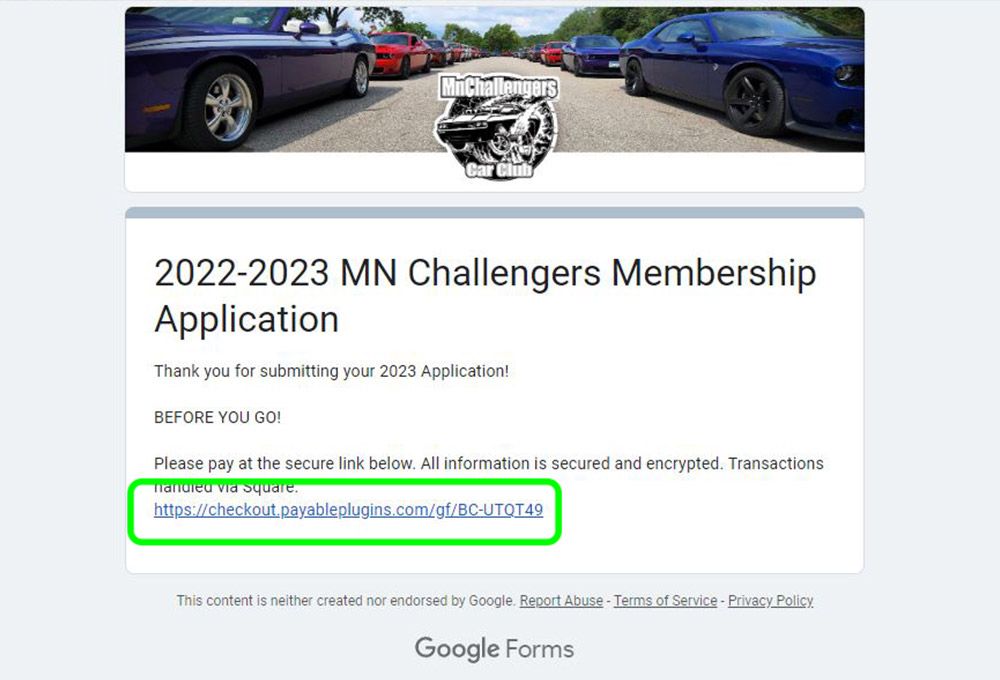 Once you've finished with the form you will be redirected to the following screen. Please follow the highlighted link to pay your dues. All information from the checkout process is encrypted and handled through Paypal.
Step 3: Confirmation / Finish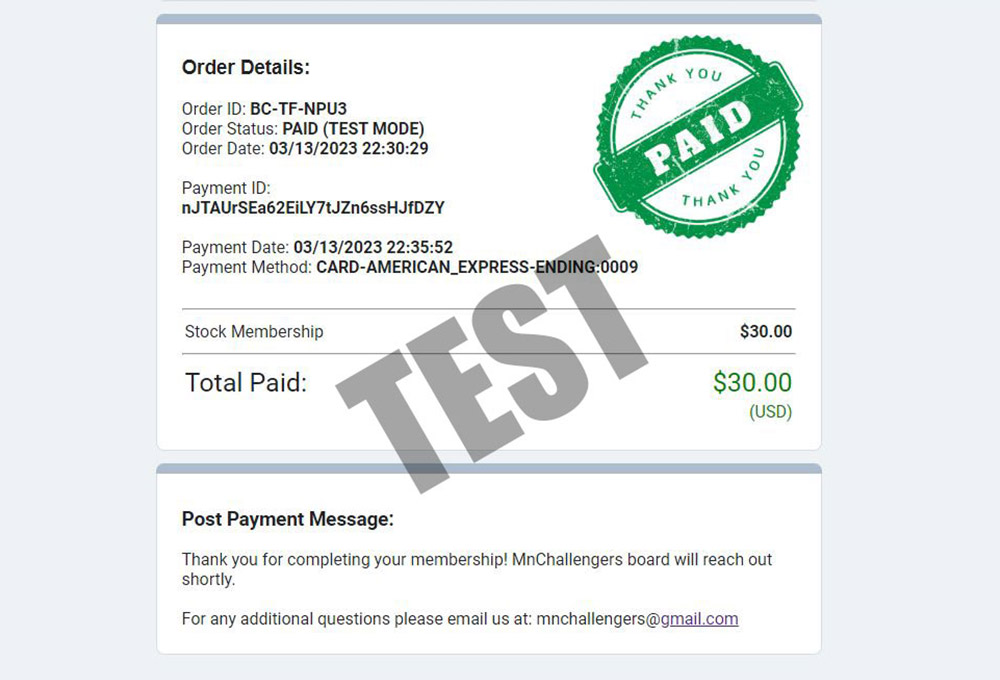 Once this has gone through you will be redirected to the following confirmation screen. You will also receive an email confirmation. Please keep this for your records. The MnChallengers board will reach out shortly.
Step 4: (Optional) Join Members' Chat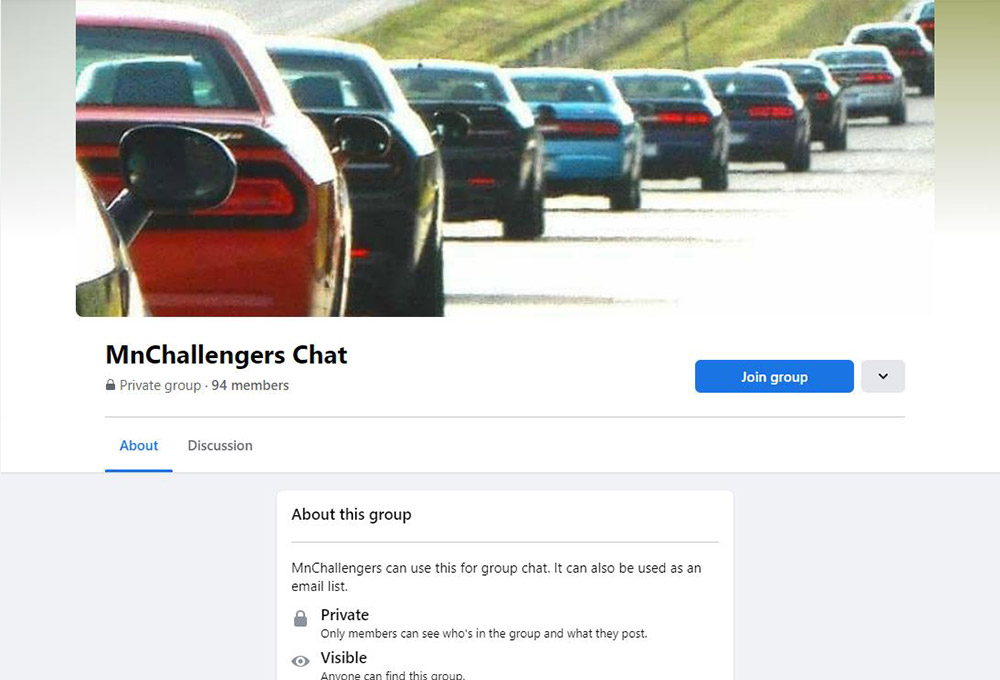 MnChallengers maintains a private members' only group to facilitate community needs, communication about events and to give members a space to have discussions. Admins will approve entry once membership form and payment are verified.

PLEASE NOTE: This is entirely optional. An email roster is also maintained to ensure non-Facebook members receive information as well.